Give Your Smile a Second Chance
Too often, we see patients who've avoided the dentist for years. Whether fear or embarrassment is keeping you from committing to treatment, our Advanced Dental Health team wants to earn your trust with our personal, compassionate approach, gentle touch, and exceptional skill. No oral health problem is too severe to be treated, and full-mouth reconstruction procedures at our Phoenix practice can be tailored to meet your every need.

If you have extensive dental problems and want to find an office that can make you feel comfortable and relaxed while giving you the care you need, we urge you to contact our practice. With oral conscious sedation available to help ease your anxiety, at Advanced Dental Health we will rejuvenate the structure, function, and health of every tooth in your mouth. Once your treatment is complete, you will emerge with a strong, beautiful smile and a fresh lease on life.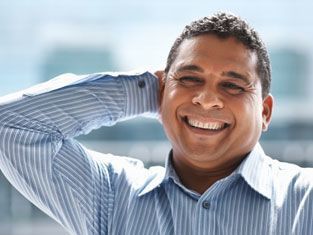 Would A Full-mouth Reconstruction Be Right For You?
If you are suffering from serious oral conditions that have affected most or all of your teeth, you may be a great candidate for full-mouth reconstruction. This procedure is often implemented to treat teeth that are severely decayed, lost due to trauma or injury, severely fractured or structurally damaged, or worn down by factors such as acid erosion. Full-mouth reconstruction also addresses issues concerning gum health, TMJ disorder, and root canal infections. During your initial consultation, the doctor will speak with you in detail about which treatments are right for you.
Each full-mouth reconstruction plan is guided by the patient's goals and tailored to the unique needs of each individual. The doctor will thoroughly examine your teeth to determine which treatments will work best to restore your oral health. Treatments that are commonly customized and combined into full-mouth reconstruction plans include dental implants to replace missing teeth, bone and soft tissue grafting to build up the foundation of the teeth, and orthodontics to repair faulty bites and bring the teeth into proper alignment.
The timeline for recovery after full-mouth reconstruction varies according to the scope of the plan and the procedures performed. Certain treatments may have to be performed independently of one another, with each requiring a period of healing.

Once the recovery period is over, you will enjoy a full set of teeth that look, feel, and function like natural, healthy teeth. Depending on the severity of your original oral condition, your reconstructed smile may even provide better function than your natural smile. Maintaining a good oral hygiene regimen is absolutely necessary once the full-mouth reconstruction is complete. A strict at-home routine and regular visits to our office will keep your new smile in great shape for years to come.
Learn More About Full-mouth Reconstruction
Full-mouth reconstruction is a complex process, but we're here to help you understand it. The doctor has gone through rigorous training and has the knowledge and experience necessary to make your dental experience one like any other. If you would like to schedule an appointment or have any questions about full-mouth reconstruction, please contact our Phoenix dental practice today.