At Advanced Dental Health, Dr. Todd R. Holton specializes in orthodontics, which is a dental specialty that focuses on the misalignments of teeth and jaw irregularities. He uses clear aligners to make the changes needed to get the teeth moved into a healthy state. During your consultation with Dr. Holton, he will work with you to determine the right course of treatment depending on your specific needs. If you need traditional braces, he also works with many local orthodontic offices as well.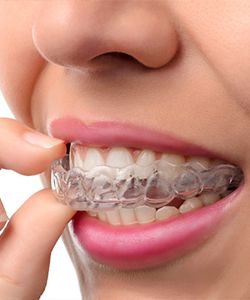 How Long Will I Be In Braces?
Orthodontic treatment can take from six months to 12 months depending on age and the severity of the treatment needing correction.
When Should Orthodontic Treatment Be Started?
When children are around the age of seven, they have a mix of baby teeth as well as a few adult. This makes it easier to check for tooth and jaw problems. In our office, we will take a panoramic film of your child at six years old to have a base line to compare to as they grow.
What Types of Problems are Treated with Orthodontics?
- Teeth-crowding
- Crooked Teeth
- Gaps
- Overbite, Under Bite, Deep bite, overcrowding
- Spacing Issues
- Previous Orthodontic Treatment
Am I Too Old for Orthodontic Treatment?
Orthodontic treatment isn't just for children and teens. According to the American Association of Orthodontists, one in five orthodontic patients is over 21. As you get older, you start to understand the importance of staying healthy. Orthodontic treatment can be used to for:
- Bite Issues
- Crowding that may be causing tooth decay or gum disease
- Abnormal jaw pain
- Crooked teeth to create a more confident smile
Orthodontic Options at Advanced Dental Health
At Advanced Dental Health, we offer clear aligner orthodontic therapy. If you would like more information about orthodontic treatment, please contact us at 480-405-0300 to schedule an appointment with Dr. Todd Holton